By: Nina Pucillo | Italian Hearts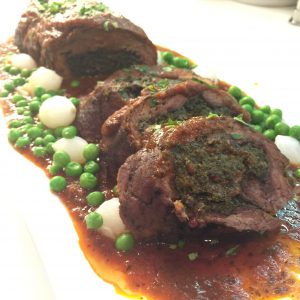 Ingredients
1 (1 3/4. LB) Durham Ranch Flat Iron Steak
1 (10 oz.) Package Frozen Spinach, Thawed
4 oz. Goat Cheese
3 Tbsp. Romano Cheese
2 Tbsp. Pink Peppercorns
1/2 tsp. Piment D'espelette
1/4 tsp. Nutmeg
1/2 tsp. Sea Salt
2 tsp. Garlic, Minced
1/2 Cup Cabernet
1 Cup Good Beef Stock (Preferably Homemade)
2 Jars Italian Hearts Three Meat Sauce
Preparation
Preheat the oven to 325°F.
Line your work surface with a large piece of wax paper; place the flat iron on top and cover with another piece of wax paper. Using the flat side of a mallet, pound the beef to even out thickness until the beef is about 14 inches long and 8 inches wide; transfer the meat to a plate and discard the wax paper.
Place a kitchen towel on your work surface; dispense the thawed spinach onto the towel. Wrap the towel around the spinach, twist the ends, and, over the sink, squeeze as water as possible out of the spinach.
To the food processor, add the spinach, goat cheese, Romano, Piment D'Espelette, nutmeg, sea salt and minced garlic; process until combined.
Lay cheesecloth on your work surface and place the beef on top. Using a spatula, spread the stuffing evenly onto the meat leaving a 1-inch border. Sprinkle the pink peppercorns evenly over the entirety of the stuffing; pat them down a bit into the stuffing.
Using the cheesecloth as an aide, roll the beef into a sausage-like form. Wrap the cheesecloth completely around the beef, twist the ends tightly and secure each end with kitchen twine. The roast should look like a sausage now. Run your hands down the roast to even it out and straighten it if necessary.
Preheat a braising pan over medium high heat. You will know that the pan is ready when you place your hand about 1 inch from the pan surface and you feel heat radiating from the pan. Add the duck fat; swirl it around the pan. Add the beef to the pan and using tongs turn as necessary to brown all sides; transfer to a plate. Deglaze the pan with red wine, stirring. Stir in the beef broth and Italian Hearts Three Meat Sauce; bring the pot to a simmer. Return the beef to the pot and cover it. Place the pot in the center of the oven; bake for two hours, basting occasionally.
Remove the pot from the oven; transfer the beef to a plate. Allow the beef to rest for 15 minutes so that it can be safely handled. Place the pot over high heat and reduce the sauce for 15 minutes.
To plate the dish: Place the beef on a serving platter, spoon the sauce on top and around the roast; arrange vegetables of your choice around the roast.
Serve and enjoy!