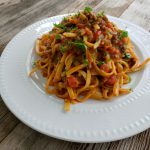 One Pot Fettuccine Bolognese is an easy recipe made with Durham Ranch Ground Grass Fed Beef, carrots, celery & onions and forms a delicious sauce with diced tomatoes, tomato sauce, red wine and seasonings. What's even better, everything cooks in the same pot making for quick clean up! Perfect recipe for a busy weeknight dinner or lovely enough to serve when entertaining too!
INGREDIENTS
1 lb. ground beef
1 cup chopped onion

1 cup chopped carrots

1 cup chopped celery

2 cloves minced garlic

1 tsp. dried Italian seasoning

½ tsp. salt

1 (14.5 ounces) can diced tomatoes with basil, garlic and oregano

1 (15 ounces) can tomato sauce

2 1/2 cups stock

1/4 cup red wine

8 ounces fettuccine

½ cup grated parmesan cheese

Fresh parsley for garnish
PREPARATION
In a large pot combine ground beef, onion, carrots, celery, garlic, Italian seasoning and salt.

Cook until beef is browned and vegetables are tender-crisp, stirring occasionally.

Stir in diced tomatoes with their juices, tomato sauce, stock and red wine.

Add fettuccine, breaking in half if necessary, and bring to a boil.

Cook, boiling, 12 minutes or until fettuccine is

al dente.

Serve with parmesan and garnish with parsley.
Recipe by Chef Stacy Petty, Brand Ambassador for Durham Ranch