By: Clint Jolly | Great Thyme Catering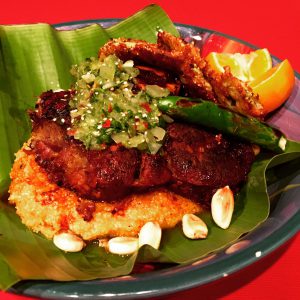 Osso Bucco Ingredients
4 Durham Ranch Bison Osso Bucco, cut 1.5" thick
½ Cup yellow onion, chopped
2 Garlic cloves
2 Habanero peppers, seeded
¼ Cup rough chopped cilantro
2 Seville oranges, juiced (or 1/2 sweet  orange juice and 1/2 red wine vinegar)
1 Lemon, juiced
2 Tbsp. sea salt
1 Tbsp. ground black pepper
2 tsp. dried chile flakes
2 Tbsp. achiote paste
4 Banana leaves, 10"x10"
Sweet Masa Ingredients
1 Cup coarse masa harina
1 Tbsp. butter
2 tsp. kosher or sea salt
1 tsp. ground chile de arbol
1 Tbsp. agave nectar
2 Cup vegetable stock
Chayote Fritters Ingredients
2 Chayote squash, peeled and grated
¼ yellow onion, sliced thin
¼ C chopped cilantro
½ Serrano chile, sliced thin
1 egg
½ Cup flour
¼ Cup milk
2 tsp. sea salt
1 tsp. ground black pepper
Canola oil for frying
Salsa Verde Ingredients
 ¾ lb. fresh tomatillos
¼ Cup yellow onion, chopped
¼ Cup cilantro, chopped
½ Serrano chile, seeded
1 tsp. ground chile de arbol
Salt and pepper to taste
Osso Bucco Instructions
In molcajete (blender will work as well),  process onion, garlic, cilantro, peppers,  chilies, salt and pepper to coarse paste. Add achiote and continue to fine paste.
Mix in juices and marinate meat overnight.
To cook, heat oven to 300°F.
Wrap Osso Bucco in leaves and tie.
Place in covered pan with 1/2″ water.
Roast for 4-5 hours until fork tender.
Sweet Masa Instructions
Combine butter, stock, spices and masa in sauce pan.
Cook over medium heat until masa is soft.
Add agave nectar and adjust  thickness with water or stock.
Check for seasoning.
Chayote Fritters Instructions
Beat egg in bowl with fork, stir in  milk, then flour and seasonings. Add  vegetables and stir to combine.
Heat oil in sauté pan over medium high  heat. Add batter to oil with tablespoon  and cook until firm and browned.
Flip and cook other side until browned.
Remove to paper towel  and season with salt.
Salsa Verde Instructions
Blanch tomatillos in boiling  water for 60 seconds.
Remove to ice water to chill.
Process all ingredients in  molcajete until course.
Adjust seasoning.