By: Kristoffer Miranda | Peppermill – Oceano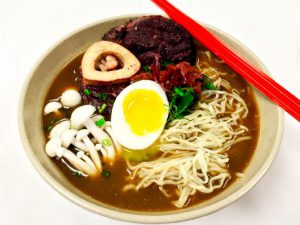 Ingredients
Bison Shank
Shoyu 2 Tbsp
Mirin 2 Tbsp
Chili oil 2 Tbsp
Salt, Kosher
1 tsp Pepper, Black, Cracked
Star Anise 1 ea.
Noodles & Toppings
4 oz fresh ramen noodles
½ soft boiled egg
1 tbsp sliced green onions
1 oz bunapi shimeji mushrooms
Seaweed (optional)
Broth
2 qt Chicken stock
2 qt Veal Stock
2 lbs Durham Ranch Osso Bucco cut lengthwise (canoe)
2 qt Water
8 oz shiitake mushroom
8 oz Onion, Yellow
4 oz Carrots, peeled
4 oz ginger, peeled, smashed
8 ea garlic cloves
3 oz white miso paste Shoyu to taste
Preparation
Bison Shank Instructions
Set Immersion Circulator at 144°F. Mix all ingredients in a bowl then place the bison shank in a vacuum and carefully pour the mixture. Cook for 72 hours.
Open the bag and set aside until needed.
Broth Instructions
Place all the vegetables in a sheet pan and roast in the oven at 400°F for 30 minutes.
Transfer vegetables in a stock pot and all pour all the liquid. Simmer for 8 hours. Strain through a fine chinois. Pour back in a stock pot and add miso and shoyu to taste.
Noodles & Toppings Instructions
To finish, deep fry the shank until the outside is crispy about 2 minutes at 350°F then sprinkle some sea salt once done. Warm noodles and place in a bowl along with the bison shank then add the broth. Assemble the rest of the items on above.