with Jasmine fried rice, ponzu bok choy, and marinated cucumber
By: Christian Christensen | Süp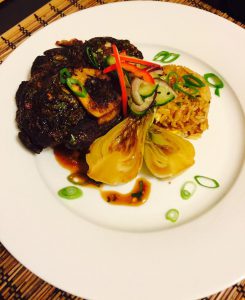 Ingredients
Bison
4 pieces Durham Ranch Bison Osso Bucco
4 tbsp. vegetable oil
2 Cups beef stock
Salt and Pepper
Korean BBQ Sauce
 ¼ Cup of soy sauce
¼ Cup brown sugar
1 tsp. fish sauce
¼ tsp. chili flakes
2 Tbsp. fresh minced ginger
1 Tbsp. fresh minced lemongrass
1 Tbsp. fresh minced garlic
1 Tbsp. red miso
1 tsp. sesame oil
1 Tbsp. black sesame seeds
1 Tbsp. lime juice
Ponzu steamed baby bok choy
 1 Tbsp. vegetable oil
4 baby bok choy sliced in half
¼ Cup ponzu
Fried Jasmine Rice
2 Cups cooked jasmine rice
2 Tbsp. vegetable oil 1 tsp. sesame oil
¼ Cup small diced carrots
1 tsp. minced garlic
1 tsp. minced ginger
1 egg
3 Tbsp. soy sauce
1 tsp. sriracha
1 Tbsp. rice wine vinegar
1 Tbsp. chopped fresh cilantro
2 Tbsp. chopped fresh green onions
Marinated Cucumber
 ½ cucumber sliced very thin
¼ of a red onion sliced very thin
2 Tbsp. rice wine vinegar
1 tsp. sesame oil
Pinch of salt
1 tsp. black sesame seeds
Preparation
For this recipe I use a pressure cooker for the osso bucco then finish it in a hot oven. The pressure cooker gets this cut fork tender in 40 minutes so you could easily do osso bucco on a week night. While it is cooking, you can prepare the cucumber and fried rice.
The Korean BBQ sauce is simply combining all the ingredients and mixing well.
Pat the shanks dry then season lightly with salt and pepper. In a large heavy sauté pan, heat the oil and sear all sides of the shanks, place them in the pressure cooker. Deglaze the pan with the beef stock and half of the Korean BBQ sauce and bring it to a simmer. Add the liquid to the pressure cooker, cover and lock. You will cook on high pressure for 40 minutes then turn off and let the pressure come down on it's own for 15 minutes. Preheat the oven to 425°F.Release the remaining pressure and place the shanks in an oven safe pan. Spread the BBQ sauce over the meat and cook for 6-8 minutes, should have a nice sticky glaze.
For the fried rice, heat a large saute pan over high heat. Add the oils and bring to a shimmer. Add carrots and saute until tender. Add cooked rice, ginger, and garlic and fry until hot and slightly crunchy, 3-5 minutes. Push the rice to the side of the pan and in the middle, crack the egg and scramble. Work the rice and egg together, add remaining ingredients and stir well.
The cucumber and onion should be sliced thin, a mandolin works well. Add all the ingredients in a bowl and stir occasionally.
Baby bok choy. Slice them in half then heat a sauté pan over high heat. Add the oil until it shimmers then add the bok choy sliced side down. Sauté for 2-3 minutes then add the ponzu and toss together.