By: Mark Estee | Reno Local Food Group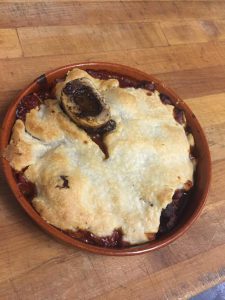 Ingredients
 4 ea Durham Ranch Osso bucco
As needed seasoned flour
2 Cups Port wine
Beef stock to cover
4 oz. demi glace to finish
1 Cup Celery
1 Cup Onion
1 Cup Carrot
1 Cup Mushroom
1 Cup Parsnip
2 Cloves garlic and shallot
½ Bunch of thyme
½ Bunch rosemary
Salt and pepper
Preparation
Heat a large skillet on the stove top. Add grapeseed oil to cover bottom, dust bison with flour.Brown well on all sides.Remove to braising pan.Heat oven to 300°F.
Add vegetables to pan and brown, deglaze with port wine.
Pour over bison osso bucco. Cover ¾ with stock and cook in the oven for 3 hours or until tender.
Let sit in braise to cool. Remove meat, strain sauce, pull meat off the bone, reduce the other half of sauce by 50%, add demi, butter and season.
To reheat, place meat, sauce and vegetable in cast iron or oven proof serving dish.Place bone at end of dish.Roll out 4 pieces of pie crust. Cover dish, leaving bone exposed.
Bake in oven at 350°F for 25 minutes.