with Roasted Red Bell Pepper Basil Pesto Oyster Mushroom Stuffing Green Goddess Sauce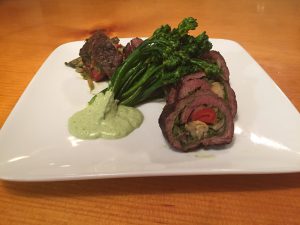 By: Billy McCullough | Tahoe Food Hub
Ingredients
3 ea. Red Bell Peppers roast, peel and cut into large, flat pieces
½ cup- Basil Pesto (recipe follows)
1 ½ cups- Oyster Mushrooms (recipe follows)
1 – 1.25 lb. Flat Iron Steak
1 cup- Green Goddess Sauce (recipe follows)
Basil Pesto
1 Cup Picked Basil Leaves (packed down)
2 Cloves Garlic
1/3 Cup Extra Virgin Olive Oil
1 tsp. Lemon Juice
1 Tbsp. Grated Parmesan Cheese
½ tsp. Salt ½ tsp. Black Pepper
Oyster Mushrooms
3 Tbsp. Oil
1 Tbsp. Butter
1 tsp. Garlic – chopped
3 Cups Oyster Mushrooms – chopped
1/2 Cup White Wine
Pinch of salt
Green Goddess Sauce
2 each scallions
1/3 cup Mayo
1/3 cup Sour cream
1/3 cup Basil – picked
1 each Lemons- juiced
1 each Garlic cloves
1 Tbsp. Salt
1 tsp. Black pepper
Preparation
Basil Pesto Instructions
In blender, blend garlic. Add 2 T of oil, lemon juice and all basil with garlic. Blend, but leave some chunks. Slowly add rest of oil.
Blend. Move to mixing bowl. Fold in cheese and salt/pepper.
Oyster Mushroom Instructions
In sauté pan, add butter and oil. When hot, add garlic, stir, then mushrooms. Sauté for 4 minutes while stirring.
Add white wine. Cook until wine evaporates. Add salt – cool.
Green Goddess Sauce Instructions
Add all ingredients to blender and blend until smooth, leaving no large pieces of basil leaves.
Assembly Instructions
To assemble and cook flat iron:pre-heat oven to 375°F.
Cut flat iron into 2 equal size pieces. Butterfly open each piece. Place each piece on top of a piece of plastic wrap. Then, place another piece of plastic wrap on top of meat. Pound meat out until about ¼ " thick.
Remove the top piece of plastic. Spread pesto over both pieces of meat. Lay red bell pepper on top of pesto. Equally sprinkle mushrooms over peppers.
Starting at one side of the meat, roll the meat tight enough to get a nice spiral in the middle.
With string, tie off the meat with 6 lengths, each about an inch or so apart.
In a sauté pan, add 2 T of oil. Brown the outside of the roll by searing the meat.
Put roulade on roasting rack, seam side down. Put in oven and cook for about 20 minutes or until internal temperature is 130°F.
Remove from heat and rest for 10 minutes. Cut off string and slice. Serve with Green Goddess Sauce.