By: Kristy Crabtree | Nevada Foodies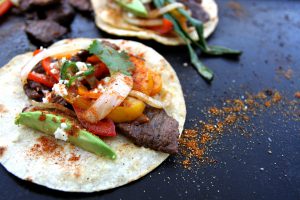 Ingredients
2 Durham Ranch Flat Iron Wagyu Beef Steaks, sliced 1/4 inch thick (2-2.5 lbs each)
1 Large red bell pepper, sliced 1/4 inch strips
1 Large orange bell pepper, sliced 1/4 inch strips
1 Large yellow bell pepper, sliced 1/4 inch strips
1 Large white onion, sliced 1/4 inch strips
2 Tbsp. Canola oil
Extras
16-20 corn or flour tortillas
Crumbled Cotija cheese
Chopped cilantro
Sliced avocado
Diced jalapenos
Sour cream
Fajita Seasoning
1 Tbsp. Cumin
1 Tbsp. Paprika
1 tsp. Mexican oregano
1 tsp. Garlic powder
1 tsp. Chili powder
1 tsp. Coriander
1 tsp. Kosher salt
1/2 tsp. Cayenne pepper
Preparation
Using a sharp knife, slice both Top Blade cuts against the grain into 1/4 inch thick pieces.
Combine all marinade ingredients in a small bowl. In a large bowl, mix sliced beef with dry seasonings and 1 tablespoon of canola oil. Cover and let marinade for 1 hour before grilling.
Heat a cast iron griddle over medium-high heat until the griddle is very hot.
In a bowl, toss sliced bell peppers and onions with remaining oil and saute on the griddle for 7 to 8 minutes. You want to sear the vegetables with some blackening on the edges.
Add the seasoned sliced beef to the hot griddle and sautŽ until browned, about 5-6 minutes. Mix the vegetables and sliced beef together and continue to cook for an additional 1-2 minutes.
Serve fajitas at once in warm corn or flour tortillas and garnish with chopped cilantro, crumbled Cotija cheese, sliced avocado and sour cream.