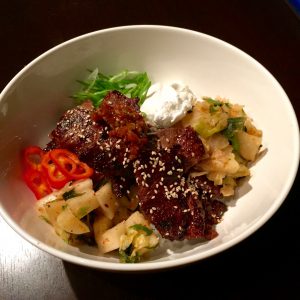 By: Clint Jolly | Great Thyme Catering
Ingredients
Kalbi Flat Iron
2 lb. Wagyu Flat Iron, Trimmed
1 Asian Pear, cored
2 Cloves Garlic
1 Small Knob Fresh Ginger
2 Tbsp. Red Pepper Flakes
1 tsp. Black Pepper
1/2 C Soy Sauce
1/2 C Mirin (Asian Cooking Wine)
1 Tbsp. Rice Wine Vinegar
1/2 C Brown Sugar
2 Tbsp. Water
Kimchi
2 lbs. Napa Cabbage
1 Cup Kosher Salt
lb. Daikon Radish
3 Green Onions, Sliced
1/2 Asian Pear, Cored
1 oz. Gochugaru (Korean red chili flakes)
2 Garlic Cloves
1 Small Knob Fresh Ginger
1/2 Cup Yellow Onion, Roughly Chopped
2 oz. Wakame (Dried Seaweed)
Preparation
Kalbi Flat Iron Instructions
Slice Steaks into 1/2 in. thick pieces, across the grain
Blend all marinade ingredients in blender until smooth
Marinate meat in zip lock bag over night or minimum of four hours
Cook over a very hot grill, 90 seconds per side
Serve over rice with Kimchi and poached egg. Garnish with Green onion and toasted sesame seeds
Kimchi Instructions
Rinse cabbage and cut into 1″ wide strips, across the stalk
In large bowl, use your hands to massage the kosher salt into the cabbage until cabbage starts to soften. Let sit for 30 minutes until white part of cabbage is tender.
Rinse the cabbage with cold water and drain well.
In blender, mix the pear, chile flakes, garlic, ginger and yellow onion and process until it turns to a paste.
In large bowl, mix cabbage, radish and green onions with paste. Use your hands to massage paste into the vegetables.
Pack tightly into a quart sized jar. Pushing cabbage mixture down so that juices cover all of the vegetables. Cover with lid.
Let sit on counter at room temperature for 2-3 days and allow it to ferment. You should see bubbles rising in the jar. Taste on day two to check for tartness, let it sit if you want more "funk".