By: Mark Estee | Reno Local Food Group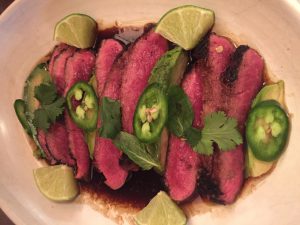 Ingredients
2 Durham Ranch Wagyu Flat Iron Steaks (6 oz each)
4 oz. Soy sauce
2 oz. Rice wine vinegar
1 oz. Sesame oil
1 Tbsp. Fresh Ginger minced
1 Tbsp. Fresh Garlic minced
3 Tbsp. Fresh Mint
3 Tbsp. Fresh Cilantro
1 ea. Avocado
1 ea. Fresh jalapeno
1/2 Lime
Instructions
Place steak in bowl.
Mix soy, vinegar, sesame, ginger, garlic, mint and cilantro in a bowl.
Reserve 2 ounces of the sauce. Pour the rest on the steaks and let sit for 45 minutes to an hour.
Heat a pan to smoking point. Lay steaks directly on pan. Cook for 3 minutes, flip, cook for 3 more minutes. Remove from pan and let rest for 10 minutes.
Spoon remaining sauce onto 2 plates.
Slice the Flat Iron thinly, against the grain.
Shingle a few pieces with avocado, jalapeno, mint, cilantro and lime.