with Flatbread and Chimichurri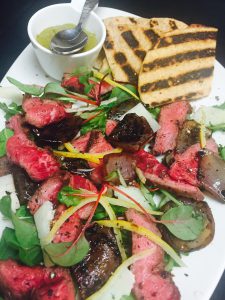 By: Adam Daniels | Bimini Steakhouse – Peppermill
Ingredients
1 ea. Durham Ranch Wagyu Flat Iron, marinated.
1 ea. Balsamic marinated red onion, grilled and cut into in pieces
2 ea. Preserved lemon, julienne cut and rinsed in cold water
1 lb. Arugula
5 oz. Smoked Ricotta salata
3 ea. Grilled Flatbread
Fresh lemon
Olive oil
Kosher Salt and fresh Cracked Pepper
CHIMICHURRI
1 bunch flat leaf parsley, blanched and shocked
1 bunch mint, blanched and shocked
2 medium shallots, fine minced
12 cloves pressed garlic
1 tsp. red pepper flakes
1/2 Cup Olive oil
2 Tbsp. rice wine vinegar
Salt & Pepper
Preparation
STEAK INSTRUCTIONS
Grill steak to desired temperature. 110°F for Medium Rare.
Let the steak rest for 10 minutes before slicing.
Finish the second portion of chimichurri with vinegar.
Arrange arugula, topped with grilled onions, ricotta cheese and preserved lemons.
Add sliced steak to top of salad.
Drizzle with olive oil, lemon juice, salt and fresh cracked pepper.
Serve with warm grilled flatbread and chimichurri sauce.
SALAD INSTRUCTIONS
Place the blanched herbs and olive oil in a blender and pulse until fine chopped but not too fine.
Combine all other ingredients except for the vinegar. Blend very quickly only to mix ingredients. Separate into two bowls, 1/3 and 2/3.
Mix 1 TBL vinegar into 1/3 of the sauce. Add the Flat Iron steak to marinade for 2 hrs up 24 hrs.